Newly launched GizmoCall gives everyone the opportunity to call just about any mobile phone or traditional landline anywhere on the planet for free. You don't even need to register to do so. You just go to your favourite browser (no mater what type of computer you may ave) and you just type the number you want to call.
The first-time you do this a small plugin (about 1 MB) downloads to your computer to enable all of the GizmoCall functionalities.
Too good to be true?
Get this then: not only you can call any traditional telephone or mobile around the world, but you can also dial any GoogleTalk, Gizmo Project, Windows Live Messenger, or any SIP device user, including contacts on Nokia's N800 tablet and N80 wi-fi mobile phones.
My friends at JaJah have finally some serious competition to keep them going. But do not trust my word. Go and find out by yourself how easy and effective GizmoCall really is.
Here the details:
GizmoCall is the latest product innovation brought about by the same team standing behind
GizmoProject voice and IM software
, one of Skype early and most serious competitors, as well as behind the
SIPphone VoIP platform
.
Call Rates
Some terms of comparison:
Calling a Mobile in
USA
SkypeOut - 0.017
JaJah - 0.024
GizmoCall - 0.020
UK
SkypeOut - 0.205
JaJah - 0.141
GizmoCall - 0.210
INDONESIA
SkypeOut - 0.125
JaJah - 0.115
GizmoCall - 0.177
JAPAN
SkypeOut - 0.125
JaJah - 0.122
GizmoCall - 0.165
AUSTRALIA
SkypeOut - 0.165
JaJah - 0.139
GizmoCall - 0.193
BRASIL
SkypeOut - 0.170
JaJah - 0.300
GizmoCall - 0.200
SPAIN
SkypeOut - 0.017
JaJah - 0.162
GizmoCall - 0.258
(prices are expressed in US dollars)
(JaJah rates vary depending where you call from - my values are set as if I was calling those destinations from Italy)
For more information on comparing these rates please see:
SkypeOut calling rates.
JaJah calling rates.
GizmoCall rates.


Registration (optional) benefits
While registration is not mandatory to be able to make a free phone call via GizmoCall, registering for the service has its advantages, including:
a) Talk for longer than your free 10 minutes a day with no restrictions
b) Utilize the Caller ID function to screen who is calling in
c) View your personal call history including all calls made and received
d) Get charged only a penny per minute for calls to the U.S.
Call Me Links
"Call Me" links are a quick and easy way to have other people make free calls to you as well as an effective way to promote to anyone the benefits of GizmoCall.
Simply type gizmocall.com/18005551212 (replace 18005551212 with the number you want to dial) into your browsers address bar. A GizmoCall page will appear wit your selected number-to-call already embedded in it, and a "Call" button awaiting your confirmation click.
To create your own personalized "Call me" link, which you can then add to your own email signature, blog or web site you only need to fill out a mini-form just like the one here below and then paste the resulting code into your final destination.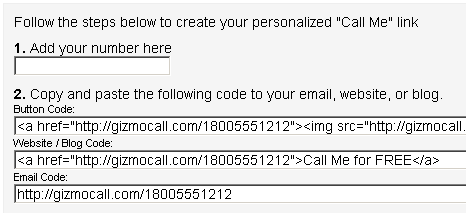 Conclusions
GizmoCall is the latest and easiest way to to make free web-based calls developed to all types of telephones out there from any Flash-enabled web-browser.
In terms of ease of use and user experience, GizmoCall offers the most direct and easiest approach for dialing a phone call straight from your computer.
Relative to costs benefits on long distance and international calls GizmoCall is positively not the winner, but its calling rates are not that far away from those of its closest competitors. Once again, considering the ease of use, directedness and free calling time that GizmoCall offers, this is a tough offer to beat.
Though JaJah may greatly simplify life for those who do prefer using a traditional telephone handset, GizmoProject it is sure to gratify:
a) all those computer-based users who have already a headset, use Skype, but have not gotten yet to open a SkypeOut account to dial into international phone numbers.
b) computer users looking for a web to telephone solution that does not require downloading and installing Skype or similar tools
c) anyone who has a fast call to make to a far destination and has no money to make a call, but does have access to a computer with a headset.
Note that GizmoCall does not provide you with a "standard" call back number like SkypeIn. When you dial any telephone number or mobile out there the receiver sees a US-based phone number, which if called back plays a recording saying that he was called from a GizmoCall user.
Definitely worth a try.


System Requirements
Windows
* Windows 2000, XP
* Microphone and Speakers
* Dialup or Broadband Connection
Macintosh
* Mac OS X 10.3.9 +
* Microphone
* Dialup or Broadband Connection
Flash installed on you browser.
Supported Web browsers
Windows
* Internet Explorer 6.0+
* Firefox 1.5+
* Opera 9.0+
Mac
* Safari 2.0+
* Firefox 1.5+
* Opera 9.0+


Support Information
Direct support page at Gizmo.


Originally written by Robin Good for MasterNewMedia.org
0 Comments: